Cart32

Benefits
Fantastic Support
We pride ourselves on delivering top notch support to everyone we serve. Your e-commerce solution deserves a live voice on the other end 24x7x365, and we can give you that.
Rock Solid Platform
Cart32 has been serving the needs of e-commerce merchants worldwide for 15 years across a wide variety of industries. Whether your selling digital goods or physical goods, processing $1,000 a month, or $1,000,000 a month, our platform can be completely customized to handle your needs.
Safe and Secure
Our data center is located 80 feet underground (literally) with guards watching over the man-trap 24x7x365 (we're not kidding). Video feeds montior every square inch of the data center. We take physical security, and network security, very, very seriously.
Simple to Use
You can be selling online in under an hour with our platform. You can take basic form code and literally place it on any site that allows you to edit the HTML. This includes Joomla! and WordPress posts, static HTML pages, and so much more! To top it all off, we provide you with a Form Code Wizard that generates the product code for you. How easy is that?!
Your

Ecommerce Solution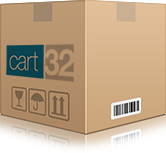 Cart32 works with 99% of websites "out of the box"! No strange hacks necessary, just good old form code ready to be molded into any fashion you desire. Let us show you the most flexible e-commerce platform on the planet.